All-Ceramic Porcelain Dental Crowns
A natural looking tooth replacement
All-Ceramic Crowns Restore Front Teeth to a Natural Attractive Appearance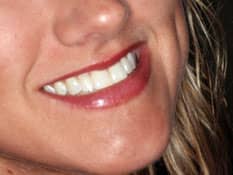 All-ceramic porcelain dental crowns offer a natural-looking solution for a broken tooth, cracked tooth, or teeth that are too severely damaged to be corrected with fillings or veneers.
Ceramic crowns can be made in shades of white that will match your surrounding teeth and other cosmetic dental work.
Along with dental bonding and dental veneers, all-ceramic crowns can probably restore any smile.
All-Ceramic Dental Crowns Procedure Overview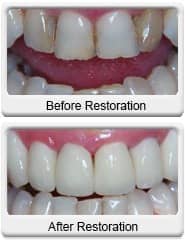 A dental crown is fitted as part of a two-stage process. During your first visit, your tooth is evaluated using x-rays to determine the amount of damage that needs to be repaired.
A dental mold comprises the treated tooth and the opposing and adjacent teeth. The mold is sent to our dental lab for fabrication. The new dental crown is color-matched to the correct shade of the surrounding teeth.
The tooth is then prepared by removing a portion of the enamel around and across the top to support the crown. The patient is fitted with a temporary acrylic crown.
When the dental crown arrives, it is bonded to the prepared tooth using strong dental cement. The new crown is then cleaned and polished. The restored tooth looks natural and feels comfortable when biting and chewing.
A local anesthetic is generally used during both the preparation and installation phases. Sedation dentistry options are also available.
Dental Restoration Materials
All-ceramic dental crowns have no metal and are made of ceramic glass, sometimes strengthened with a translucent material such as zirconium.
We provide Empress, Procera, and Lava all-ceramic crown systems and computer-aided all-ceramic designed crowns.
Feldspathic porcelain is the standard, traditional porcelain that is used for crowns. Many cosmetic dentists feel that this is the most beautiful porcelain.
Types of Porcelain Used In Creating Crowns:
Dr. Garelick will choose the best materials for your restoration.
Are All Ceramic Crowns The Best Choice?
Porcelain fused to gold offers an excellent cosmetic option for rear molars when both the restoration's strength and aesthetic concerns. We offer several Dental Crowns and Caps restorative options. Dr. Garelick will help you decide which system is the most appropriate to achieve your smile's strongest and most natural-looking crowns.
Restore your smile.
Call the Chandler Dentist today and make an appointment for an All-Ceramic Crown consultation!
Voted Best Dentist
Jeffrey S. Garelick, DDS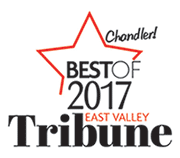 Independent Reader Poll
Leaders in
Cosmetic Dentistry
Dental Implants