We are accepting new patients!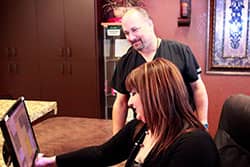 Welcome to Ocotillo Dental Care. Whether you need to have your teeth cleaned or you would like a total smile makeover, you have come to the right dental practice. Our primary goal is to create and maintain the dental health of our patients. We are focused on your dental needs and desire to create a beautiful healthy smile. You deserve a thoughtful, conservative approach to your dental care. We will base our care for you on your individual need. It is important to us that you completely understand your dental needs and that we clearly explain all of the options that are available to you to address those needs.
First visit – New patient appointment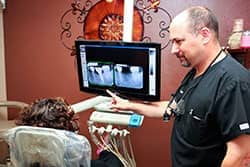 During you first visit you will receive a comprehensive oral examination. This includes: full mouth digital x-rays, a complete dental and periodontal exam with the doctor, oral cancer screening and a routine cleaning with the hygienist. Doctor Garelick takes time to get to know each patient and address their concerns and goals. We want to open with a great line of communication and have a good relationship with all of our patients. There are no surprises once treatment is started and we take care of insurance claim submissions and scheduled any subsequent appointments. Your first visit to Ocotillo Dental Care is the first step towards your new healthy and beautiful smile!
Patient forms
Please print out these downloadable PDF forms, fill them out and bring them with you to your first appointment. Please be prepared to provide this patient information to our office along with your current dental insurance information so that we may use our expertise to assist you in maximizing your dental benefits. If you have any questions about these forms, our staff will assist you with your questions on the day of your visit. Note: Please complete all forms – only the financial policy requires a signature.
Secure Online Forms
Download Forms
Payment & Insurance
We accept Visa, Master Card, cash, checks, and Care Credit.


We accept ALL PPO dental Insurances
We accept all PPO dental insurances and are in network with many of them including Delta Dental PPO, Metlife PPO, Blue Cross Blue Shield PPO & Aetna PPO. Please call the office for details about your specific plan.
At this time, we do not accept any DHMO dental plans.
No insurance? No problem! We have our own in office policy available!
More financial policy info on insurance, payments, missed appointments.
Call Ocotillo Dental Care now, we look forward to caring for you very well!
Ocotillo Dental Care In-Office Discount Plan
$250 per person per year
(Effective for 1 year from purchase date, not per calendar year)
Coverage Includes
2 periodic exams per year
2 routine cleanings per year
full mouth x rays and bite wing x-rays as needed
2 limited/ problem focused or emergency exams per year
PA x rays as needed
30% discount on all services at regular fees
Ocotillo Dental Care's Discount Plan is valid for treatment at Ocotillo Dental Care only. Specialist referrals and any associated care and costs are not eligible for any discounts associated with this plan.
Voted Best Dentist
Jeffrey S. Garelick, DDS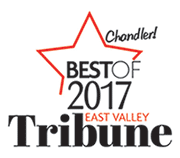 Independent Reader Poll
Leaders in
Cosmetic Dentistry
Dental Implants