Bone Regeneration and Gum Grafting
Regenerate previously lost gum and bone tissue
Healthy gum tissue protects your teeth from disease and sensitivity. Healthy gums produce a great smile. When you experience gum tissue loss around your teeth, it can be the beginning of severe oral health problems. Exposed tooth roots become sensitive to temperature change. They are more vulnerable to decay and contribute to jaw bone loss.
Aggressive tooth brushing and gum disease are two leading reasons roots become exposed.
Osseous Surgery — Oral Plastic Surgery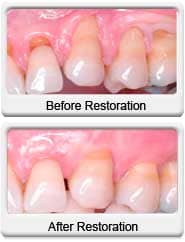 Gum disease is treated by eliminating open gum pockets. Gum restoration is performed by trimming away the infected gum tissue and smoothing uneven bone tissue. This is still an effective way of treating gum disease. Dr. Garelick provides new and more sophisticated procedures for correcting gum disease and restoring tissue damage.
Dr. Garelick performs periodontal plastic surgery to replace the missing gum tissue with grafting procedures. In the past, this procedure required that a piece of tissue be harvested from the roof of your mouth to serve as the graft material. Unfortunately, not everyone has enough tissue available or wants to have tissue taken from this sensitive area.
Bone Regeneration
This surgical procedure "regenerates" the previously lost gum and bone tissue. Most techniques utilize gum membranes inserted over the bone defects. Some of these membranes are bio-absorbable, and some require removal. Other regenerative procedures involve the use of bioactive gels.
Dr. Garelick will provide more information and help you decide if oral plastic surgery is the most appropriate method to achieve your goals.
Because Dr. Garelick can provide both advanced periodontal procedures and reconstructive dentistry, many patients who typically require periodontal and restoration dentistry need not travel to a specialist and pay higher costs.
Call our Chandler dentist office and make your appointment today!
Voted Best Dentist
Jeffrey S. Garelick, DDS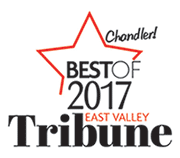 Independent Reader Poll
Leaders in
Cosmetic Dentistry
Dental Implants