Dental Implants
The best permanent replacement for a missing tooth is a dental implant
Dental Implants Function like Natural Teeth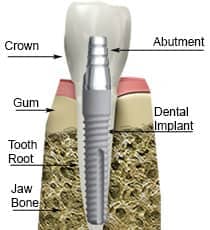 A dental implant is an artificial tooth root replacement that is used in prosthetic dentistry to support the replacement of a tooth or a group of teeth. A dental implant is made of surgical grade hypo-allergenic titanium. It is surgically placed into bone to anchor a replacement tooth, bridge or denture.
When both the tooth and root are damaged beyond repair, the best permanent replacement is a single-tooth implant: a single unit combining a dental implant with an artificial dental crown. The crown is connected to the implant with a post or abutment.
A dental implant restoration both looks and functions like a natural tooth. Often, depending on the patient's mouth, an immediately functioning temporary tooth can be placed.
Dental Implants Time Table and Options
First Visit
Consultation
X ray
Treatment plan
Impressions & schedule CAT scan (if necessary)
Second Visit
Place implant(s)
follow up appointments to monitor healing including X rays
Third visit
Take impressions for custom implant abutment and crown and send to lab
Last visit
Place final implant restoration
Dental Implants Procedure Options
Manual dental implant placement
Manually placed implants use conventional two-dimensional x-rays to evaluate the feasibility of implant placement.
Unloaded dental implants

In this procedure dental implants are placed into the jaw and allowed to heal for several months before supporting crowns or bridges are attached.
Single Dental Implant

Multiple Dental Implants

Full Mouth Dental Implants

Loaded dental implants

Immediate functional loading is a procedure where the teeth are extracted, implants placed and a bridge attached in one day. This is often referred to as "Teeth in a Day".
Full Mouth Dental Implants – Teeth in a Day
Computer Guided Implant Placement
Computer technology uses three-dimensional CAT scans for the selection and placement of dental implants. This technology can determine bone density and the best location for implants. Patients who previously were not candidates for manual placement may now be candidates for computer guided dental implants.
Multiple dental implants
A surgical template is developed from a cone beam scan to accurately guide the implant surgery. The accuracy of the CAD/CAM guided surgery allows the implants to be placed directly into the bone with no incision or stitches needed. In many patients a fixed preformed bridge can also be placed at the time of implant surgery.
Fewer dental implants required
Previously 5-8 implants were necessary to support a full arch fixed bridge. However, new research has shown that angling the end implants 45 degrees drastically increases implant support. In many cases this allows an affordable solution to the placement of a fixed bridge now supported by only four implants.
Learn more about dental implants restorations and what's right for you.
Call the Chandler Dentist today and make an appointment for a Dental Implant consultation!
Voted Best Dentist
Jeffrey S. Garelick, DDS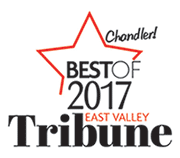 Independent Reader Poll
Leaders in
Cosmetic Dentistry
Dental Implants