Cracked Tooth Restoration
An intermittent toothache may indicate a cracked tooth
Treatment for a Cracked Tooth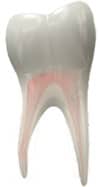 Cracks in teeth are a major cause of tooth loss and often require endodontic therapy (root canal), a dental crown, or removal of the damaged tooth.  A cracked tooth can allow the dental pulp to become infected, spreading to the bone and gum surrounding a problematic tooth and cause more extensive problems.
A cracked tooth may be caused by trauma or a result of stress-induced TMJ.
Sometimes there is only an intermittent toothache which may indicate a cracked tooth. Symptoms may include pain when chewing, temperature sensitivities, or throbbing at different times of the day. Tooth pain may come and go, making it difficult to diagnose the cause of discomfort.
Types of Cracked Teeth
Craze lines
Tiny cracks on the outer enamel of the tooth are more common in adults. These types of cracks are superficial and are usually of no concern.
Fractured Crown – Cusp
A weakened cusp may fracture. As a result, the cusp may break off or be removed by a dentist. A fractured cusp rarely damages the pulp, so a root canal is not necessary. Dr. Garelick will usually restore the tooth with a full crown.
Cracked Tooth
A crack that extends from the tooth's chewing surface down towards the root may compromise the structure and health of the tooth. The crack may extend below the gum line and even into the root. Damage to the pulp is common. A cracked tooth that is not treated will worsen, resulting in the loss of the tooth. Therefore, early detection is essential. Root canal treatment is usually necessary.
Split Tooth
A split tooth is usually the result of an untreated cracked tooth or severe trauma. The crack will now segment the tooth. In most cases, a split tooth can not be saved. Depending on the split's location, it's possible that a root canal can save the tooth root and allow restoration with a dental crown.
Vertical Root Fracture
A vertical root fracture begins at the root and extends towards the chewing surface of the tooth. Treatment involves endodontic surgery if a portion of the tooth can be saved by removing the fractured root. A dental implant can provide a replacement root, and a dental crown is used to replace the visible portion of the tooth.
Root canal alternatives
Dental implants offer an alternative to root canal therapy. In some cases, dental implant surgery may be preferable and off a more secure anchor for crown replacements. Based on the location of the tooth, a dental bridge may offer the patient a second alternative. Non-replacement of the tooth leads to dental disease and failure of the adjacent teeth. After examining a patient's unique condition, can help the patient to decide which treatment meets their needs.
Call the Chandler Dentist today and make an appointment!
Voted Best Dentist
Jeffrey S. Garelick, DDS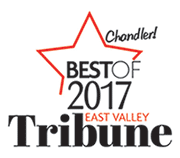 Independent Reader Poll
Leaders in
Cosmetic Dentistry
Dental Implants