Dental Implant Surgery
The Chandler dentist provides dental implant surgery and implant restorations at the same office.
Implant Oral Surgery
Chandler Dentist Dr. Jeffrey S. Garelick is a dental implant specialist. He is a dental training instructor in implant dentistry.
Few dentists have the dual training and expertise to offer restoration and replacement procedures. Implants are only as good as the dental restorations they support. The end result must be determined before implants are placed.
Comprehensive treatment and planning are required. This includes the review of medical and dental histories, periodontal (gum) health, bone quantity occlusion, TMJ, and facial aesthetics.
Photographs, dental models, and X-rays are analyzed first to have a clear vision of the final restoration. A CAT scan is often used with a special program (Simplant) to place the implants virtually on a computer. Dr. Garelick uses this 3D analysis to determine the exact size and placement of the dental implant before the surgical visit.
Dental Implant Placement Procedure Time Frame
Every implant case is different and dependent on many factors, including the number of dental implants required, patient health, and bone mass. The placement procedure and the healing time vary from person to person. Depending on the patient's condition, a temporary immediate functioning tooth or "teeth in a day" can be placed after surgery.
Time to complete – Dr. Garelick usually requires three to four dental visits to place the dental implants and for the placement of the permanent dental crown. The fabrication of dental crowns/bridgework may take between four to six weeks, and additional healing time may be required taking up to eight weeks for the procedure.
1st procedure visit – We take X-rays and a Cat scan of the desired placement location for the dental implants. Molds for crowns and/or bridgework are taken and sent to a dental lab.
2nd visit – Dr. Garelick will perform oral surgery to place the implant placements into the jawbone. He may fabricate a temporary bridge and/or crown for the implant until the permanent restoration is ready.
3rd visit – Healing/progress visit.
4th visit – Dr. Garelick removes the temporary bridge or crown and replaces it with the permanent dental prosthetic.
Dental Implants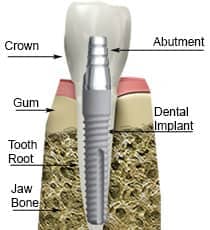 Dental implants are designed to provide a foundation for replacement teeth that look, feel, and function like natural teeth. Dental implants serve as the base for many types of tooth replacements. Implants can replace one or several missing teeth with crowns or bridges fixed in place. For the replacement of many or all of the teeth, implants can support secure removable dentures. Dental implants allow outstanding results in both appearance and function of replacement teeth.
Bone Grafting
Bone grafting is a procedure to gain more quantity of bone. If there is a deficiency, bone-forming or -enhancing products can be used during a separate visit or during the implant placement to strengthen the anchor point.
Specialty Referrals
Dr. Garelick provides dental implant surgical placement for other dentists' patients.
Call today and make an appointment for a Dental Implant consultation!
Voted Best Dentist
Jeffrey S. Garelick, DDS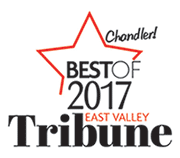 Independent Reader Poll
Leaders in
Cosmetic Dentistry
Dental Implants