Seniors Dentistry
Age specific dentistry to help maintain healthy teeth and gums
Dentistry for Seniors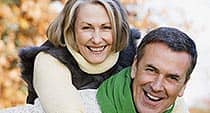 Senior patients are often faced with problems that challenge their dental health in their retirement years. Fortunately, these problems are preventable or correctable!
Our senior services are focused on age specific dentistry needs in addition to preventative dentistry practices.
Difficulty chewing dramatically reduces the ability to maintain healthy teeth, gums, and the enjoyment of a special night out at one's favorite restaurant.
Seniors who live alone or as "empty nesters" often prepare convenience foods high in starches and empty carbohydrates. Over 400 prescription drugs and over-the-counter medications that degrade oral health and promote rampant and difficult to treat root decay. Dr. Garelick has expertise in treating the special dental needs of seniors and focused on preventing problems that are more common with our senior patients before they occur.
Removable dental appliances not only look natural, but provide a more youthful appearance by restoring support of facial tissues lost when teeth are extracted.
Dental Implants can restore the joy of eating apples and steak, without the discomfort and embarrassment of loose or poor fitting dentures and partials.
Implant retained dentures can restore 90 percent of natural chewing ability as compared to 10 percent chewing ability with traditional full dentures.
Periodontal scaling and bone regeneration and gum grafting can preserve and restore dental health and function for many years.
Many seniors can quickly improve their dental health and quality of life with proper dental care.
Call our Chandler dentist office to learn more about dentistry for seniors and your special needs.
Voted Best Dentist
Jeffrey S. Garelick, DDS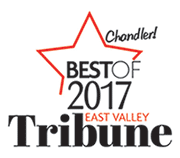 Independent Reader Poll
Leaders in
Cosmetic Dentistry
Dental Implants