Custom Designed Dentures
Color, Shape and Alignment
Custom Designed Dentures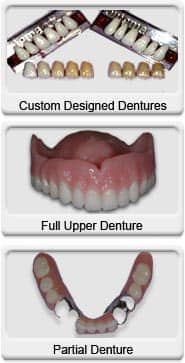 Custom dentures are a prosthetic replacement of lost teeth constructed of acrylic or acrylic with metal substructures. These appliances are called complete dentures, where all the teeth on one or both jaws are missing, or partial dentures, where some natural teeth are still present in the treated jaw.
Match the exact shape, color, and alignment of your existing teeth or create the look you want. Create a denture that is most comfortable and appropriate for you.
Ocotillo Dental Care works with its patients to choose the correct and most esthetic tooth size and color to achieve predictable results. Dr. Garelick has the training to fabricate your dentures and utilize implants for denture retention.
Enhance the Function Custom Designed Dentures
Utilizing two to four dental implants beneath a complete denture can offer a superior level of chewing efficiency and denture retention. With implant-retained dentures, you never have to worry about a loose denture again. Moreover, dental implants prevent the loss of jaw bone due to chewing pressures on the gums.
Call the Chandler Dentist today and make an appointment for a dentures consultation!
Voted Best Dentist
Jeffrey S. Garelick, DDS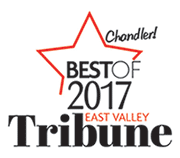 Independent Reader Poll
Leaders in
Cosmetic Dentistry
Dental Implants