Implant-retained Dentures
Offering "All-on-4" and "Teeth in a Day" implant dentures.
Implant Dentures
Implant dentures or implant retained dentures provide denture wearers with a new quality of life and dental health. Dental implants have become the restoration of choice for replacing missing teeth. Implant retained dentures provide superior performance and usability.
Implant-retained dentures are far superior to conventional removable dentures. Chewing ability with complete conventional dentures about 15% compared to natural teeth. Implant-retained dentures function like natural teeth and provide up to 100% chewing function.
An implant retained denture is a denture secured in place by using two or more dental implants. These dentures may be removed by the patient.
All of 4 and Teeth in a Day
Also known as All-on-4, this method provides greater stability utilizing 4 implants per upper and or lower dental arch. With minimal invasive placement techniques, patients who have lost or about to lose all their teeth are candidates for the procedure know as "Teeth in a Day".
Implants Provide Superior Chewing Function
A person's chewing ability with conventional complete dentures is only about 15% as efficient as with natural teeth. Implant retained dentures allow a patient to function normally.
Prior to the advent of implants, a patient who had lost all of their teeth was limited to wearing complete dentures. The stability and retention of those dentures was unpredictable. Fit and function are less efficient with age and degeneration of the jaw.
With the use of as few as two implants we are now able to construct a removable denture which snaps into place and provides excellent retention and stability.
Full or partial dentures can be fitted to titanium posts that are implanted directly into the jaw bone.
Implant retained denture process Time Table
First Visit
Consultation
X ray
Treatment plan
Impressions & schedule CAT scan (if necessary)
Second Visit
Place implant(s)
follow up appointments to monitor healing including X rays
Third visit
Take impressions for custom implant abutment and denture and send to lab
Last visit
Place implant retained denture
Implant retained denture benefits
Implant retained dentures offer several benefits compared to traditional dentures:
The dental implants hold dentures firmly in place so there is no rubbing or irritation
Dentures don't slip during biting, chewing or speaking
Food shouldn't be able to work its way under the dentures when you eat
Implant retained dentures promote normal pressure on your bone tissue, reducing the rate of resorption (bone loss) in the jaw over time. Dental implants provide more stability for lower jaw dentures than traditional dentures.
Only patients with good jawbone density are candidates for oral implants. In some cases, the necessary bone support can be created through grafting.
Learn more about implant retained dentures and what's right for you.
Call our Chandler dentist office and make your appointment today!
Voted Best Dentist
Jeffrey S. Garelick, DDS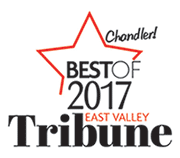 Independent Reader Poll
Leaders in
Cosmetic Dentistry
Dental Implants