Drill-less Air Abrasion Dentistry
Anti-anxiety drill-less dentistry - no drill, no high pinched noise, no anesthetic shots needed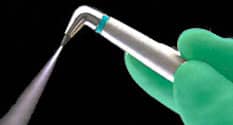 Air Abrasion is a drill-less technique used in place of a drill to remove decay. Because there is no drill, no high-pitched drill noise, and the drill-less tool uses a spray, the procedure is more stress-free and safer than traditional drilling.
Because the equipment does not produce vibration or heat, patients require little or no anesthetic. Drill-less dentistry is quieter, faster, and more comfortable than traditional drilling.
How Does Air Abrasion Works
An instrument that works like a mini sandblaster is used during air abrasion to spray away decay. During air abrasion, a fine stream of particles is aimed at the decayed portion of the tooth. These particles are made of silica, aluminum oxide, or a baking soda mixture and are propelled toward the tooth surface by compressed air or a gas that runs through the dental handpiece. Small decay particles on the tooth surface are removed as the stream of particles strikes them. The decay particles are then "suctioned" away through a thin tube.
Drill-less Dentistry with Air Abrasion is Safe
Air abrasion is much more conservative than a drill. Because it is less invasive and slower to remove decay, more heath tooth tissue remains intact. The silica water spray used in the Air Abrasion sprayer requires some precautions. Protective eyewear (to prevent eye irritation from the spray) and the use of a rubber dam (a rubber sheet that fits around teeth) or protective resin applied to nearby teeth and gums to protect areas of the mouth that aren't being treated.
Advantages of Drill-less Air Abrasion Dentistry
Compared with the traditional drilling method, the advantages of air abrasion are many and include the following:
Air abrasion generates no heat, sound, pressure, or vibration.
Air abrasion reduces the need for anesthesia, particularly if the cavity is shallow.
Air abrasion leaves much more of the healthy tooth tissue behind.
Air abrasion leaves the working area relatively dry, which is an advantage during the placement of composite fillings.
Air abrasion reduces the risk of fracturing and chipping of the tooth, which some dentists believe can affect the life span of the filling.
Air abrasion allows the dentist to treat multiple sites in the mouth during a single visit.
The procedure is relatively simple and quick.
Disadvantages of Drill-less Air Abrasion Dentistry
Air abrasion is not necessarily free of pain. The air and abrasive particles can cause sensitivity.
Air abrasion is not recommended for deep cavities (those close to the tooth's pulp). It is best suited for removing small cavities that form early on the surface of teeth.
Only composite filling material can be used following air abrasion because it adheres well to the smooth surface of the air abrasion (amalgam or silver fillings require drill-based cuts to prevent the filling from falling out).
Call our Chandler dentist office and make your appointment today!
Voted Best Dentist
Jeffrey S. Garelick, DDS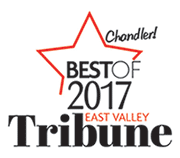 Independent Reader Poll
Leaders in
Cosmetic Dentistry
Dental Implants