Dental Implants - Frequently Asked Questions
What you should know when considering dental implants
Frequently asked dental implants questions include: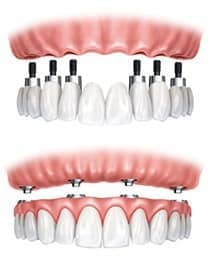 How much do dental implants cost?
Will insurance or Medicaid pay for some or all of the procedures?
Will you provide me with a second opinion?
How long will implant treatment time take?
Will I be without teeth?
How long do dental implants last?
Am I a good candidate for dental implants?
What are the benefits of dental implants?
How much will implants cost?
A dental implant is an artificial tooth root supporting dental crowns, bridgework, and dentures. The dental implant procedure costs will vary greatly based on needs: a single dental implant with a dental crown, several restorations, or the replacement of all teeth. The cost of dental implant treatment depends on several individual factors, including the location of the implant(s), the patient's health, any bone grafting requirements, the number and type of implants, and the dental crown restoration.
*** The costs referenced herein will give you an idea of cost and considerations at the time of this writing. Only a full exam and treatment plan can provide the actual procedure cost for your needs.
A single-tooth dental implant treatment can range from $1,500 to $7,500. The type of dental implant, placement location, bone structure, and health are all factors in cost; or if you can even safely undergo a dental implant procedure. A single implant also requires a replacement tooth called a dental crown that can cost between $1,000 and $3,000. Implant bridgework can replace several teeth with two or more implants, costing between $3,500 and $25,000.
A standard implant is a titanium post, usually 3 to 6 millimeters in diameter and 6 to 14 millimeters in length. Standard dental implants typically cost between $1,800 and $2,500 per fixture, and several may be required.
"Mini" implants are around 2 millimeters in diameter. They are designed to support small individual teeth and can be combined in a group to support a removable denture. Their application is limited, and the cost ranges from $300 to $900 per fixture.
Implant-retained dentures can support the entire upper and lower arch. This can cost between $5,500 and $25,000. Many people find the lower-cost price range of a mini‐dental implant attractive. Some dental practices may quote you a treatment price based on using a minimum number of these lower-cost implants and cheaper restorations.
Will Medicaid or Insurance pay for my implants?
Medicaid is intended to provide coverage for "Medically Necessary Dental Services". It covers basic treatments such as tooth extractions and their replacement with partial or full dentures. Generally, dental implants are not covered by dental insurance. However, more companies are covering dental implants today. In many cases, your insurance can help pay for the teeth placed on the dental implants, if not the implants themselves. Your dental insurance provider can apprise you if dental implants and dental crowns are covered procedure.
Second opinions
Patients seeking a second opinion are welcome. You will need a copy of your CT scan and procedure plan.
The only way to obtain an accurate cost for your dental implant procedure is to have a consultation that addresses your unique situation. Without a CT scan and procedure plan, a dental exam must be completed (CT scan, evaluation, and procedure plan) must be completed.
How long will implant treatment time take?
Implant treatment times can range from the immediate replacement of an extracted tooth to over six months when jaw surgery and bone grafting is needed. The average treatment time is between three to six months. Most of the time required to complete implant treatment is for allowing the bone to fuse with the implant completely. In most cases, the healing process takes a few months. The implant is located below the gum line. It fuses to the jawbone without the patient having any feeling or awareness. In more complex cases, treatment time may be longer.
Will I be without teeth?
Dentures or partials can be worn over the implants during the initial healing period. Temporary teeth are made before the removal of any existing teeth.
Are dental implants as strong as natural teeth?
Dental implants are stronger than natural teeth and provide the function of the tooth root. After treatment, patients will have 100% normal dental function and chewing ability.
How long do dental implants last?
A dental crown is expected to last about 10 to 15 years before normal wear can cause the tooth to require replacement. Dental implants can last beyond 15 years with excellent dental hygiene and care.
How successful are dental implants?
The 10-year success rate for most dental implants is between 90% ‐ 95%. Implant design and placement are important factors in implant success. Clinical studies show that a patient's health and bone quality are important determinants of dental implant longevity.
Who is a good candidate for dental implants?
Most people who can safely undergo a tooth extraction procedure are likely candidates for dental implants. Heavy smokers who suffer from alcohol abuse or chronic disease may not be candidates for implants. A complete Dental Implant examination, physical exam review, and an evaluation of your medical history are required to determine if the procedure is safe for you.
The Benefits Of Implant Dentistry
Full dental function and better dental health.
Enhanced ability to chew your food.
Replace removable full and partial dentures with fixed bridgework.
Improved appearance.
Increase in self‐confidence.
Prevention of further bone loss.
Choose Ocotillo Dental Care
As a leader in dental implantology, Ocotillo Dental Care provides advanced dental implantology.
One‐stop service with onsite implant surgery and implant restorations at the same office.
Teeth in a Day
All‐on‐4 implant retained dentures
Implant retained dental bridgework.
A 3‐D cat scanner allows for the precision placement of implants.
We are well qualified, having performed thousands of restorative dental cases.
Visit our website to view patient testimonials and smile restoration cases.
Call Ocotillo Dental Care at (480) 855‐1994.
Voted Best Dentist
Jeffrey S. Garelick, DDS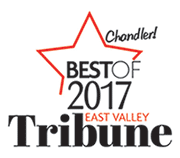 Independent Reader Poll
Leaders in
Cosmetic Dentistry
Dental Implants