About Ocotillo Dental Care
Dentistry focused on your needs
Dentistry with Compassion and Quality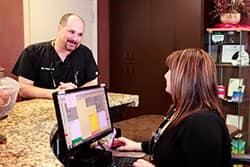 Ocotillo Dental Care is focused on your dental needs and comfort. Compassion and Quality is our motto, and you will find our staff warm, caring, and friendly.
We specialize in cosmetic and restorative work, dental implants, and family dentistry. We offer sedation dentistry for patients who may be anxious or would rather sleep through a procedure.
Our goal is to give each patient exactly the treatment they need. We are prepared to take more time on each procedure to meet your needs. Our patients put their trust in us to provide them with the best dental work they can get. As a result, we work harder to exceed your expectations.
We accept all Dental Insurance Plans, help you understand how your insurance benefits work, and obtain a breakdown of benefits on your behalf before your dental appointment. My administration team is here to serve you and assist in making appointments and payments and addressing any insurance concerns.
Our Dental Practice
At Ocotillo Dental Care, we take pride in providing you with attention and understanding of your dental needs. We use the latest dental equipment and cutting-edge technology.
From routine dental checkups and cleanings to restorative dentistry and advanced cosmetic dentistry that can turn heads with a sparkling white smile, Dr. Garelick and the Ocotillo Dental Care staff will help you achieve your goals.
Dr. Garelick
Dr. Garelick is one of Arizona's most experienced and highly trained dentists. He is an expert and a teacher in cosmetic dentistry and dental implantology. Whether diagnosing and treating problems with your teeth and gums or helping you choose the best cosmetic options to take your smile to the next level, the dental advice and the attention to aesthetics you'll receive from Dr. Garelick are second to none.
Ocotillo Dental Care Staff
Our skilled hygienists and dental assistants are friendly, caring, and thorough. They will take the time to answer all your treatment questions and discuss any concerns you might have. Our office staff will help with insurance, payment options, and scheduling convenient appointments.
See why so many people choose Ocotillo Dental Care.
Call Ocotillo Dental Care now; we look forward to caring for you very well!
Voted Best Dentist
Jeffrey S. Garelick, DDS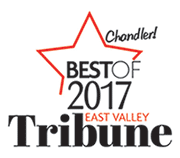 Independent Reader Poll
Leaders in
Cosmetic Dentistry
Dental Implants