Cosmetic Dental Recontouring
For minor chips or wear in teeth
Economical Solutions for Chipped Teeth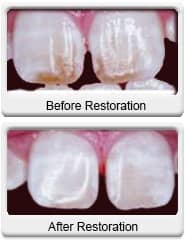 For minor chips or wear in teeth, dental cosmetic recontouring can smooth the surface and edges to beautify minor imperfections and damage.
The edges of a tooth can be smoothed, corners reshaped and polished to resemble their original, or sometimes better than original appearance.
While useful for small chips, recontouring does not take the place of veneers or bonding.  If your teeth have deeper chips or fractures or large fillings, then cosmetic recontouring is not the recommended treatment.
Some imperfections which are unable to be removed by contouring alone may be treated with cosmetic dental bonding as well.
The treatment is typically performed by Dr. Garelick in a single visit.
Depending on the severity of the problem, porcelain dental veneers and dental crowns offer restoration choices.
Restore your smile.
Call the Chandler Dentist today and make an appointment!
Voted Best Dentist
Jeffrey S. Garelick, DDS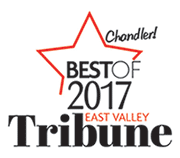 Independent Reader Poll
Leaders in
Cosmetic Dentistry
Dental Implants